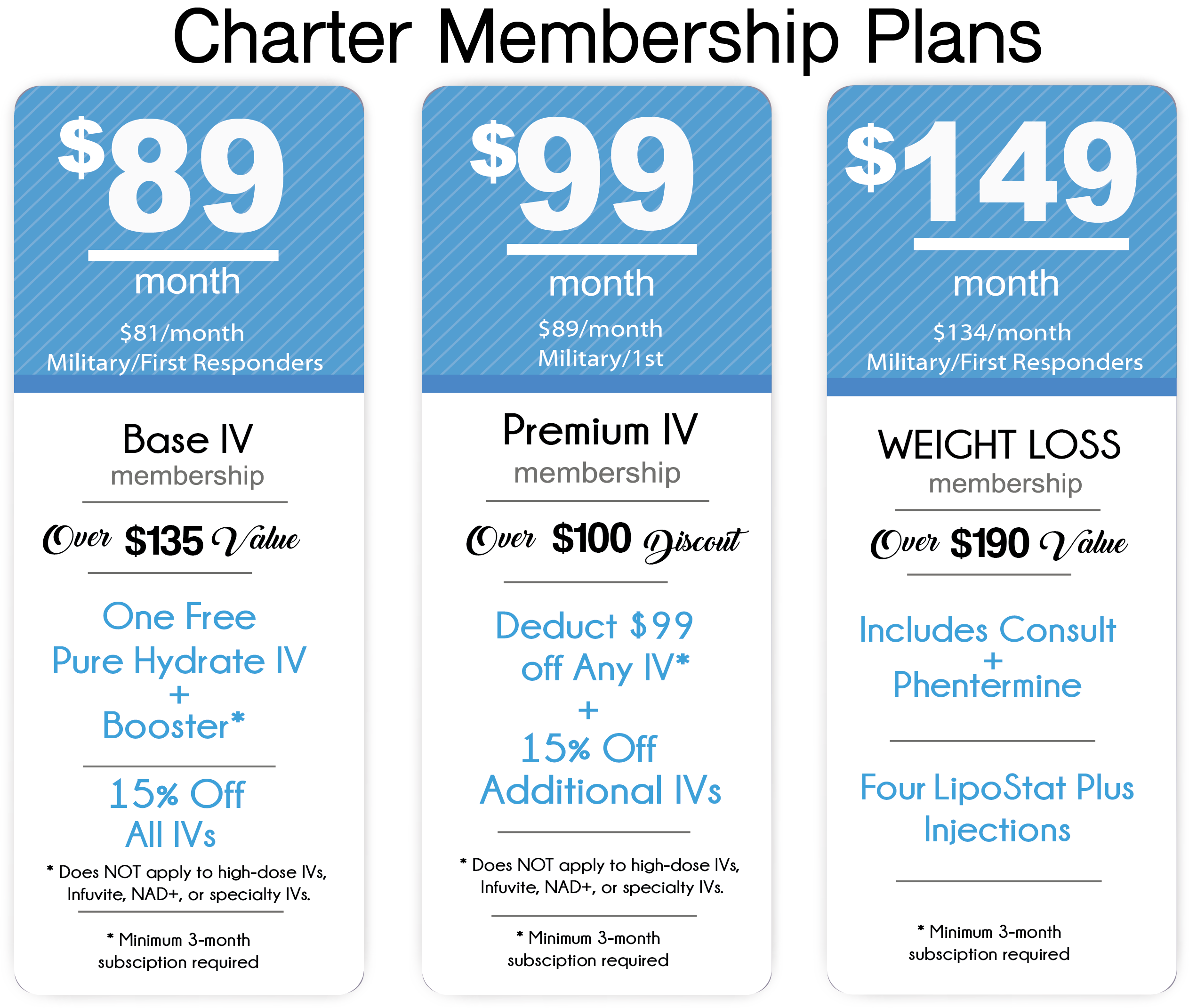 MEMBERSHIP POLICY
Your membership can be used at any thrIVe Wellness location in the United States. A member may sign up at any location and use their monthly payment for services at any location.
Your membership entitles you to discounts on our products and services, and member-only events.
The monthly membership fees range from $79-$149 and are subject to change. Some services in certain states are subject to the applicable state tax at the time of treatment. Monthly membership fees are drafted on a 30-day rolling basis and are typically withdrawn on the same calendar day each month. The monthly membership starts the day you sign up for your membership. All services must be used within the membership monthly billing cycle and cannot be carried over.
Membership pricing, promotions, etc. are non-transferrable to other people and are for the member's use only. Membership discounts do not apply where noted.
Any membership fee that is returned for insufficient funds, incorrect card number or card information is considered in arrears are due to thrIVe Wellness immediately. The member is responsible for any canceled/expired cards and must call/come into a thrIVe Wellness location to update an expired card or update card information. A $25 fee will be assessed for each late payment. If a membership is considered in arrears or a member comes in before their monthly membership fee is paid, membership services and discounts will not be available for use until the full balance is paid. If a membership fee is past due for more than 14 days, a $50 reinstatement fee will have to be paid by the member.
In order to cancel a membership before the 3 month minimum commitment is over, the member must have moved more than 100 miles from any thrIVe Wellness location and will be required to provide military/work orders or a current utility bill (gas, water, or electricity) with the address and member name listed on the bill when they come in. If member has not relocated and has not been a member for the 3-month minimum, a $50 short-term cancellation fee will be due to terminate the membership.
To cancel a membership after the 3-month initial term, a member must come to a thrIVe Wellness location and complete our membership cancellation form.
A membership fee cannot be paid by any in-store credit, comp cards, discount cards, or Greensky credit and must be paid by Cash, Visa, MasterCard, American Express or Discover Card. Membership fees cannot be paid by any promotional vendor programs such as Brilliant Distinctions/Alle or thrIVe Wellness Loyalty Rewards., etc.
Membership discounts and offers are available at each office that offers the services listed. If a location does not offer the service listed on the membership program, there will be no refunds or modifications for the members who visit that office.
Members agree to abide by all thrIVe Wellness policies and membership terms and conditions.
Particular appointment availability or thrIVe Wellness team member availability is not guaranteed. thrIVe Wellness prices are subject to change.
I UNDERSTAND ALL MEMBERSHIP SERVICES, BENEFITS, DURATION, AND BILLING CYCLES ARE THE CARD HOLDER'S RESPONSIBILITY. ANY HOLDER OF THIS CONSUMER CREDIT CONTRACT IS SUBJECT TO ALL CLAIMS AND DEFENSES WHICH THE DEBTOR COULD ASSERT AGAINST THE SELLER OF GOODS OR SERVICES OBTAINED PURSUANT HERETO OR WITH THE PROCEEDS HEREOF. RECOVERY HEREUNDER BY THE DEBTOR SHALL NOT EXCEED AMOUNTS PAID BY THE DEBTOR HEREUNDER.
To the full extent permissible by law, for purposes of any dispute arising out of this agreement, all parties hereto agree to submit to the sole and exclusive jurisdiction of the State of Florida and to the application of Florida law.
The Member and thrIVe Wellness acknowledge that this Agreement constitutes their entire agreement. It cannot be amended except in written form executed by both parties.
This membership is not negotiable, transferable, or cancelable except as otherwise provided herein. Notice of intent to cancel by the buyer shall be given in person and they will use the cancellation request form available at thrIVe Wellness.